Mural Location: 1115 W Lynn Street | Photo Credit: do512.com
Happy Thursday, Y'all! It's been an extraordinary week for me...I turned 43, and for my birthday I got my second dose of the vaccine! AND the love of my life surprised me with a gorgeous piece of art from one of my favorite people who happens to be a seriously talented artist. Just pinch me! I'm so grateful to all of you who reached out to send well wishes.
We just received the market stats for March and it's another record-breaking month. For the city of Austin, the median sales price jumped 24.8% to $514,000 year over year and the sales dollar volume increased 46%! New listings are up 1.4% while active listings dropped 66%, meaning homes are selling at a MUCH faster rate. We're sitting at 0.4 months of inventory, which is hardly anything! If you're wondering why we have such a housing shortage and resulting rising prices, the answer is multi-faceted.
The pandemic has reshuffled job markets and all those people who can now work from anywhere want to work from Austin, of course! We know why!

Also, materials have been underproduced because of incorrect initial assumptions of the impact of the pandemic. This has caused extreme increases in lumber, steel and just about every material that goes into building new homes.

Couple this with the fact that we have had an undersupply of new construction homes for several years running in the Austin area and this is why buying a new home right now is so difficult and expensive!

Investors are also swarming as single-family residential is an appealing and safe place to park their money.

Millennials are now beginning to buy their first homes, which is another major contributor.
If you want to talk more about what's going on in the Austin market, or specifically in your neighborhood, I'm always excited to talk to you. I'm even more excited about the new possibility of talking with you in person now being vaccinated! Let's do it!
Austin Ranks in Top 5 U.S. Cities for Millennials
For a vibrant, lively and booming city, it's no surprise to us that we are continuing to see an influx of young people moving to Austin. In fact, according to a fifth-annual study from SmartAsset on where millennials are moving, Austin ranked #4 on the list!
Millennials are stepping away from the biggest cities such as New York and Los Angeles in order to find better job opportunities and a better quality of life.
Even more, the study revealed that as for the states, Texas ranked #1 overall for millennials on the move.
"More than 187,000 people between the ages of 25 and 39 moved to Texas in 2019, while nearly 154,000 left, creating a net gain in millennial residents of more than 33,000 – the biggest net gain for this generational group in the country. As a result, Texas leads the study for a second consecutive year," says SmartAsset.
Find out which other cities made it into the top 10 list for millennials
here.
Are you or someone you know moving to Austin and need help finding the right home?
Reach out!
Your Guide to All Things
New & Noteworthy
in Austin
Creators of Popular Austin Holiday Bazaar Conjure Up New Spring Market

"O

ne of Austin's most treasured annual winter holiday markets is springing up a little early this year.

The creators of Blue Genie Art Bazaar, the holiday art show and market that takes place every year in the weeks leading up to the Christmas holiday, will host May Market, an all-new spring art and

"

...

keep reading.
Bright Skies Ahead: Austin Mega Airport Still in Sight after Pandemic Turbulence

"

Pre-pandemic, the Austin-Bergstrom International Airport was in the midst of a meteoric rise.

Since opening in 1999, the airport had tripled its passenger numbers. Between 2011 and 2019, it was the third-fastest-growing airport in the country. The Federal Aviation Administration ranked it

"

...

keep reading.

Top Picks for Things to Do
April 16-18
33rd Annual Hill Country Home Tour

Head out to beautiful Wimberley, Texas this weekend for the 33rd Annual Hill Country Home Tour! View four gorgeous properties at your leisure, including an off-grid sustainable retreat, a modern Hill Country home, a split-level property with stunning views of Blanco River and a grouping of luxury safari tents at Spoon Mountain. Get more info

here.
East Austin Art Walk

Love street art and graffiti? Then this event is for you! Join in for an awesome Art Walk this weekend and discover all kinds of new and under-the-radar street art throughout East Austin. Get some great photo opportunities while you learn about the various artists and artworks from knowledgeable and passionate tour guides. Learn more

here.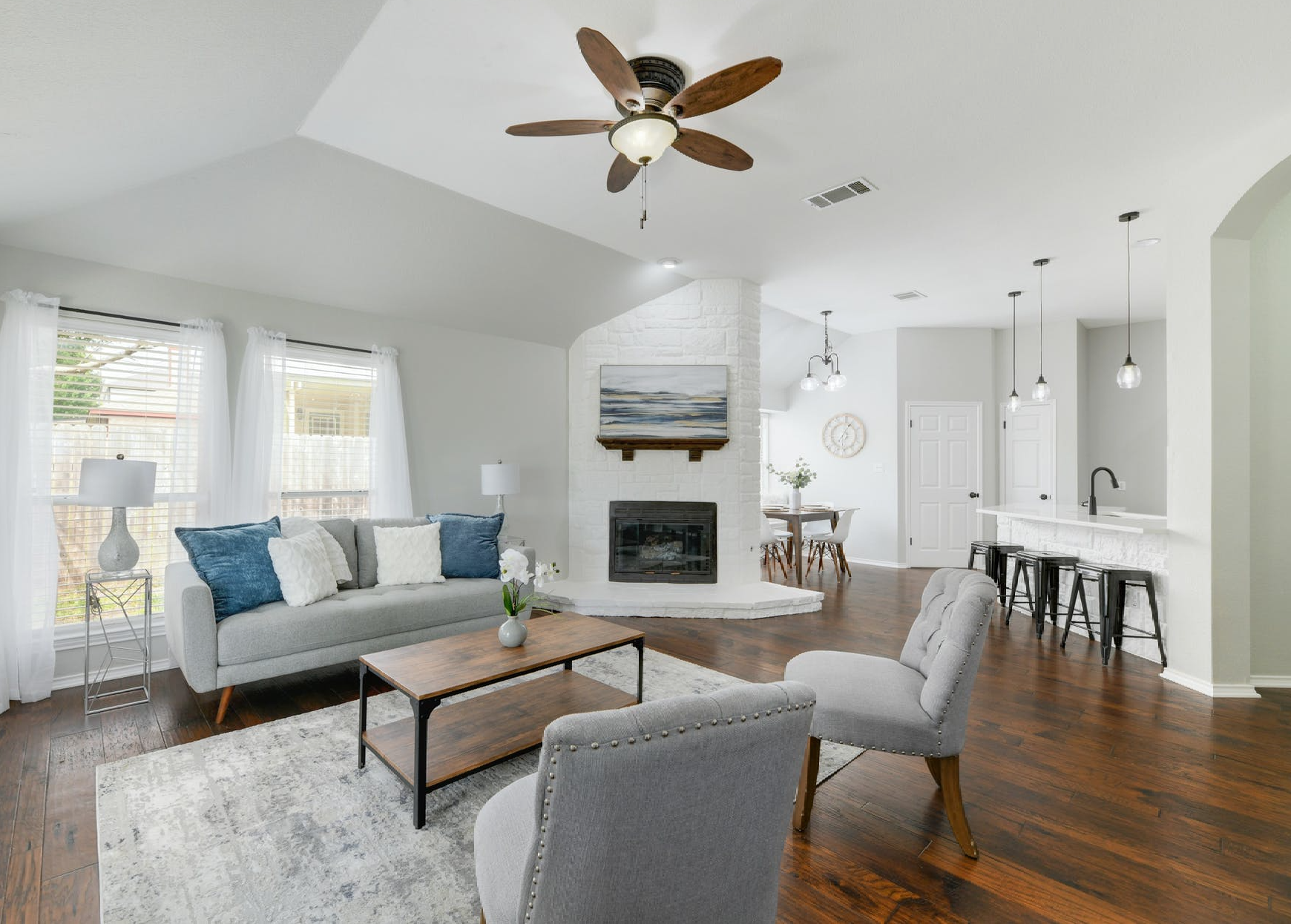 Lovely and newly updated one-story home in Round Rock! This 3-bed, 2-bath gem has a bright and airy floor plan with lots of natural light.
Hardwood floors throughout and uniquely arched doorways create tons of charm...
Click here for the full listing, or message me to schedule a showing!
If you were forwarded this e-mail and would like to receive my weekly newsletters, click below to subscribe!
© Compass 2021 ¦ All Rights Reserved by Compass ¦ Made in NYC
The information contained herein does not purport to be complete nor, necessarily, accurate and should be independently verified; nor does it represent or constitute a legal analysis or financial advice. All of the financial projections and/or conclusions are provided for illustration purposes only. Compass and its agents disclaim any and all liability for representations and warranties, express or implied, contained in, or for omissions from, the information contained herein or any other written or oral communication transmitted or made available to the recipient. This represents an estimated sale price for this property. It is not the same as an opinion of value in an appraisal developed by a licensed appraiser under the Uniform Standards of Professional Appraisal Practice.